Foreword
Technically I should be in Moscow for these five days and after 13 years I should enjoy a concert of My Chemical Romance again. So far plan A. Pandemic said no. So I looked for an alternative. Since it was my birthday in those days, I just didn't want to be stuck at home at all. So I went to plan B: The fourteen eight-thousand-metre peaks in the Ore Mountains. Through a conversation with a friend I came up with plan C: Hiking in Eastern Czechia, where she comes from. Unfortunately, this plan fell through at short notice. For a short time I had Slovakia in mind as plan D, but finally everything ended with plan E: between the Jizera Mountains and the bavarian Alps. What I experienced there, you can read in the following lines…
July 7th, 2020
After a normal working day I left at 3 PM as usual, packed my stuff and got into the car. Unlike usual, this time the ride didn't go home, but to the Czech Bedřichov, where I arrived after a very comfortable 2,5 hours drive. Already on the way here I could catch the first glimpses of the Jizera Mountains. The joy became even bigger right away!
For the next three days Chata Bajama will be my home. I enter the lodge and immediately find the master of the house. It was quickly clarified: He speaks hardly any German, I even less Czech. But with my minimal knowledge of other Slavic languages, hands and feet we understand each other somehow. I tell him that I have a reservation. He shows me a piece of paper to know if that is me. No, I am not an Uwe. But that's no problem either. He asks for how long I want to stay and shows me my room.
I not only have five beds to choose from, but also a bathtub for me alone, although community bath was indicated. Awesome, I think to myself, you can't have it any better. It's also very quiet here, it seems, although the holiday season has already started here, not much is going on here, or everyone has already left. I hope for the first.
As there is still some time left until dinner, I unpack my stuff and get ready for tomorrow. After all, I'm not here just to lie around, but want to explore the Jizera Mountains tomorrow. Otherwise I wouldn't have had to make this trip.
So at 7 PM I slowly started the hunt for food. In the dining room the table was already set, but this became secondary. On the ceiling and on the walls there were various things hanging everywhere from bells, skis to shoes. So first of all, take a close look at everything. And then the dinner started. Apart from me there were only two other guests. As it was customary, I was first asked for something to drink. When I asked for fruit tea, they offered me at least 10 kinds of tea to choose from. I already noticed that here, people take good care of me. Then I started with a soup as a starter. What was it exactly? I don't know, but definitely very tasty. Then we continued with schnitzel and mashed potatoes and cake for the final course. Full and satisfied we sorted out the paperwork and I went back to my room.
As I had so beautifully imagined, I would now take a nice warm bath before I lay down in bed and that's when I found the catch to the whole thing. The tub was there, but the boiler only gives hot water for about 15 cm. For washing it was enough and as a hotel owner I would not do it differently. At least not in the price category.
Clean and happy I went to sleep at half past nine, after all almost 30 km are planned for tomorrow, depending on what the weather says. Good night!
July 8th, 2020
Already at seven I woke up before my alarm clock and when I looked out of the window I also noticed that the weather forecast was correct: It was raining. But I didn't want to let that stop me. If the weather is fine, anyone can hike, I can do it even if it rains. At least I hope so…
So I got up at half past seven, packed my things and myself and went for breakfast first. Today it should go fast, because I still had about three quarters of an hour of driving ahead of me to get to the slightly distant parking lot.
On time as planned, I started at half past nine, along the green hiking trail, where there was a small pond to the river Černá Smědá.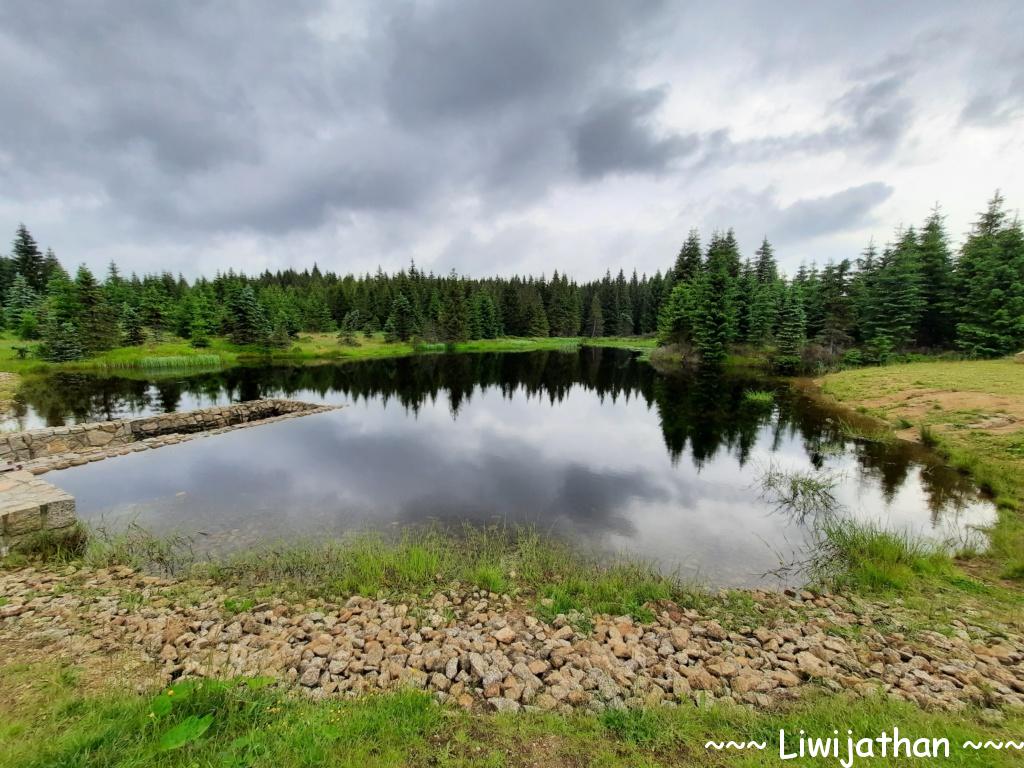 Afterwards I followed the blue mark for a while to get to my first destination. At the lookout point Paličník you can not only look down into the valley towards Bílý Potok and Hejnice, but you can also see Smrk with its lookout tower, my next destination, on one side, and Jizera on the other.
I had already got used to the drizzle by then, but there was also a very strong wind up here at the top. So I didn't want to stay in this cold wind any longer, took some photos and walked back along the yellow path a bit until I came back to the blue one and could follow it up to Smrk.
In the meantime the rain had stopped and I was allowed to go hiking in dry weather. I knew that the blue trail would eventually lead up the mountain to the right, but what kind of path, was a surprise, that was reserved for me until I stood in front of it. Steep up the mountain high above debris. Great, I thought to myself, and did what I always do in such moments: kick my ass and off I went.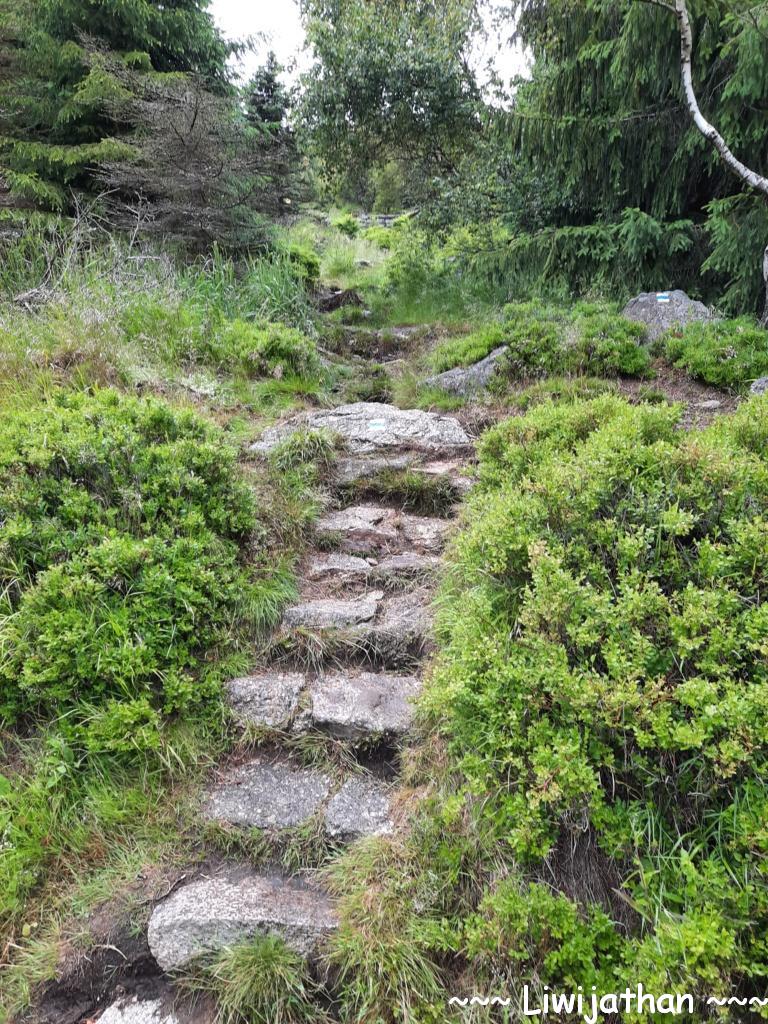 In the upper half the path became a little flatter and led partly over wooden footbridges. Almost at the top I met another person for the first time that day. Because it was the middle of the week and the weather was bad, I didn't expect many people.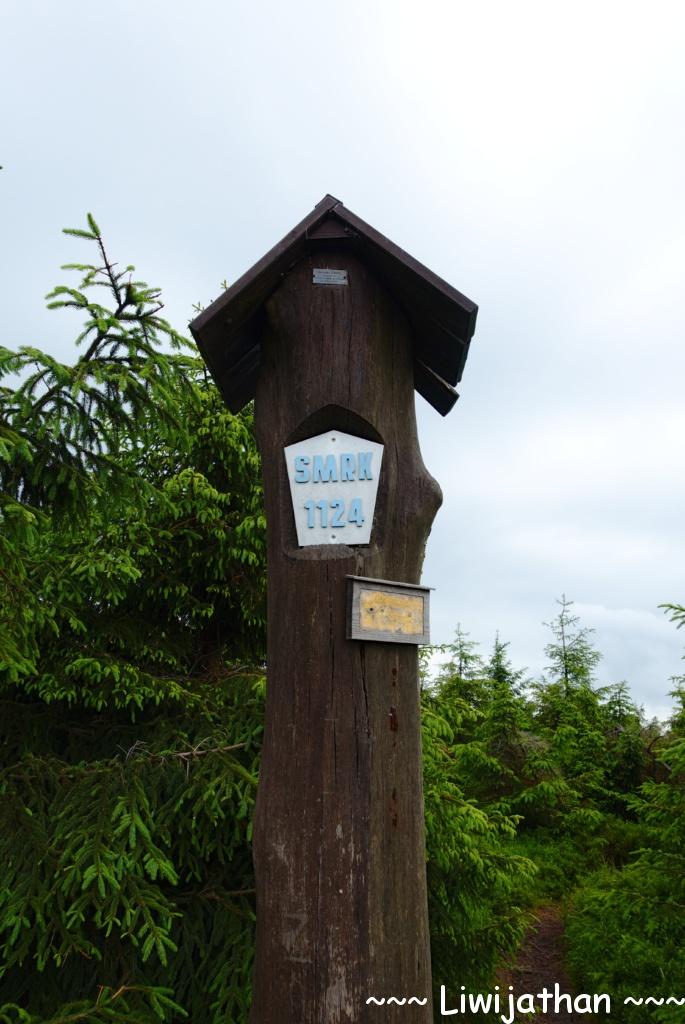 I followed the path further, over a small trail through the bushes, until I finally reached it, the lookout tower on the Smrk. Since the wind and rain had become very strong again in the meantime, I only climbed up half to the first viewing platform of the tower, but even here, one could see the view very well.
After a panoramic view, I quickly went on again, back on the blue trail downhill, until a small path goes off to the left again, and from there on the red trail downhill. Then I continued on the blue trail again and still followed the trail downhill to Bílý Potok and for the first time I did not enjoy going downhill as far as this, but that had more to do with knowing that I would have to go everything up again to reach Jizera. The closer I came to the valley, I met some hikers from time to time, but they were really rare today.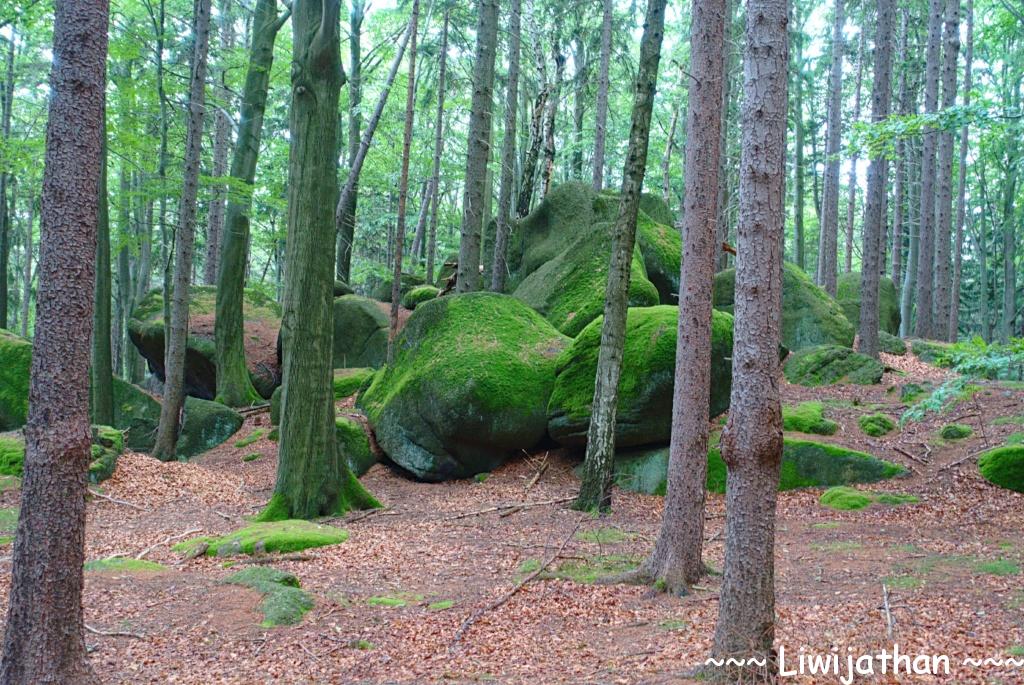 When I arrived at the bottom I basically just crossed the river Smědá and from there on up the mountain again. Since I only gave the GPS a partial stage and it was set to the shortest route, I didn't notice that I wasn't going the planned route, but the shortest way. Lesson of the day: If the route to your destination is shorter, it's steeper. I noticed this at the latest when I reached the Richterova Cesta. Going vertically up the mountain is still one thing, but this path was very stony and because of all the rain also very slippery. It is still a mystery to me that I did not simply turn around somewhere. The rain has become a bit heavier now, I already had 15 km behind me, and I was already a bit tired. I had to take a break two or three times, but I came up.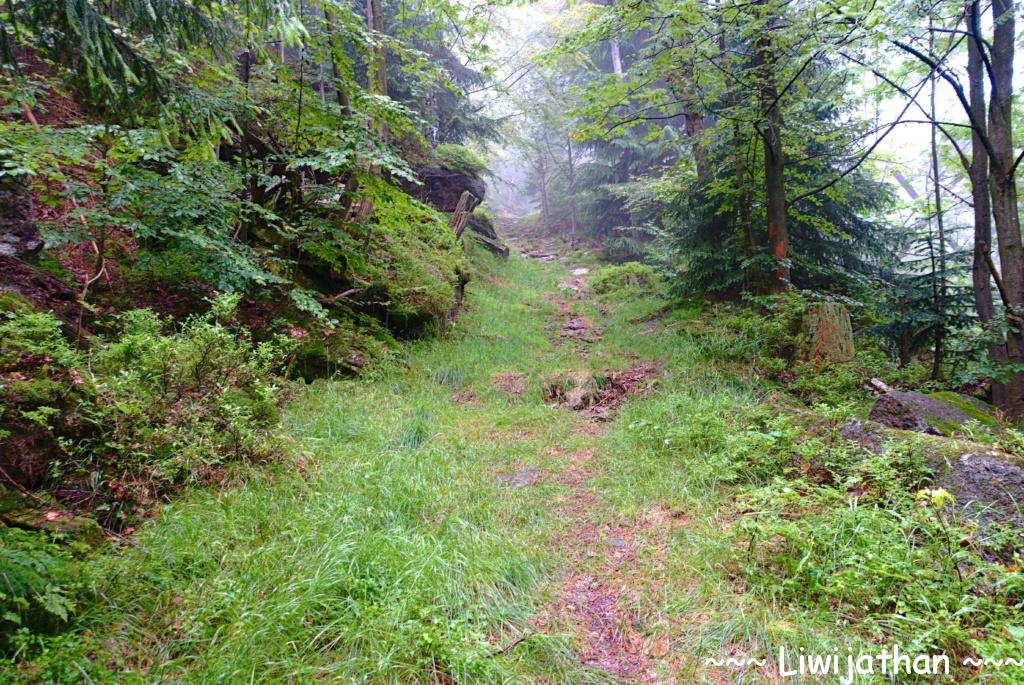 At the crossing to the yellow hiking trail I knew that the worst was over. Meanwhile fog had formed and I knew then already that if I went up the Jizera I would be there, but I would not see anything. The luck of the first view had probably left me here. But since I had to go this way first anyway, I had some time to think about whether to go up there or not.
Over wooden footbridges and through a lot of mud I followed the path until I returned to the big path and decided that I will go up the Jizera today. Even if I wouldn't see anything, I just didn't want to give up at this point, not so close to the finish.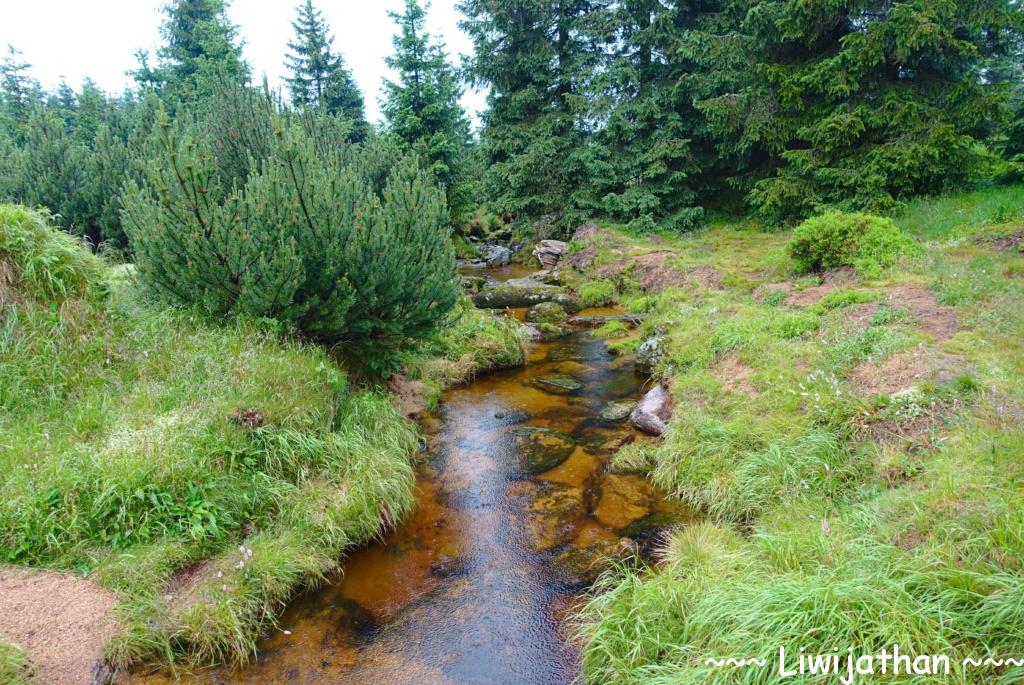 And so a short time later I was standing on the 1122 m high mountain, in heavy rain with even stronger wind, and first of all I gave a scream of joy from me and was happy about my will to complete this day like that. In the end I probably owed this to my good rain gear. If I had got wet and started to freeze at some point, I probably wouldn't have got through it either. View? But as expected it was closed today.
So I didn't stay long and decided to go back to the parking lot, which I reached again around five o'clock.
Back in the accommodation, I almost missed dinner, but after changing my clothes I got a delicious soup and goulash.
Full and satisfied I went into the bathtub only for a short time. As I did not know yet exactly what I should do the next day, I had a look into the map in order to decide that I have a few points that I want to see but I will just walk and look where I will end up. The only condition was to simply leave the car and start walking straight from the accommodation. And with this plan I went to bed at half past nine and slept, after all one wants to be fit again for the next day.
Total distance:
30049 m
Max elevation:
1125 m
Min elevation:
401 m
Total climbing:
1415 m
Total time:
07:42:51
July 9th, 2020
Today I had the luck to stay in bed a little longer. Nevertheless I got up at half past seven to be on time for breakfast. The view out of the window told me that the weather could be better today. The view into the weather forecast said the same. So I got dressed and off to breakfast. But before I got that far, I got a less pleasant phone call. The plan for the following three days changed due to weather technical reasons and suddenly I had time to go hiking on Friday. But in order to make a plan for it, I had the whole day time.
And then finally breakfast. Since I had decided that hiking days cannot be diet days, I also allowed myself a donut.
Since I still didn't really have a plan where exactly I should go, I just packed my things and started my way. The car should also have a break for today, so I explore the surroundings of my accommodation.
My first goal was to see the rock formation Viklan. This one was hiding along a small path in the middle of a sea of trees.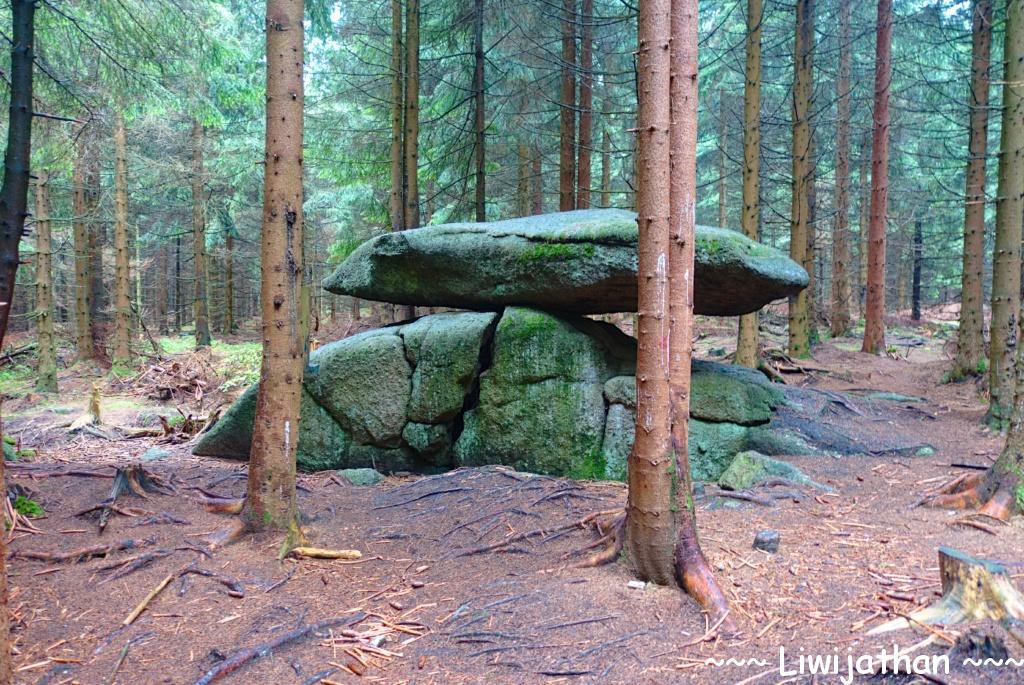 Further north I followed the green hiking trail up to and along the dam Bedřichov. Although it had been announced that it should at least stay dry until noon, this lasted until shortly after ten. The good thing about it was, it was not bad in any case not to have my swimming suit with me.
To protect the nature as much as possible, a wooden footbridge was built along the lake, on which I also followed the water. It was almost as much fun in the rain as climbing over wet stones, but I also survived this unscathed.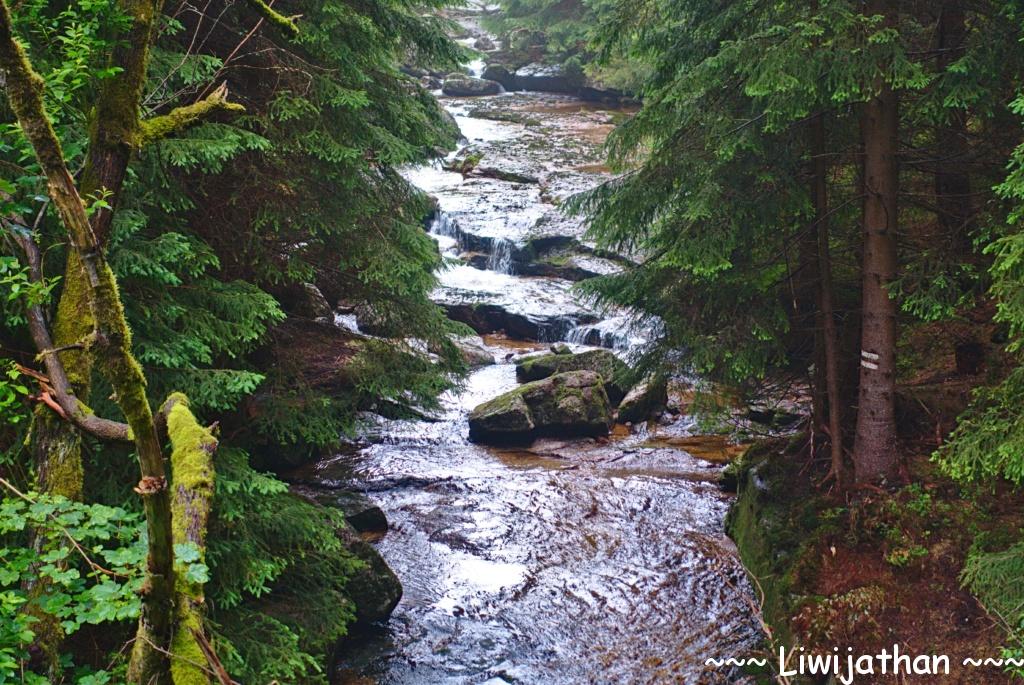 We continued along the yellow trail past Nová Louka, and after a short stretch on the blue marked hiking trail we reached Blatný Rybník. As this was a small pond and I had plenty of time, I decided to go around the pond before continuing.
Originally I wanted to go back slowly from there, but I didn't look at the map that closely anymore and just kept on walking. On the way I met a woman with her two children on bicycles who asked me for directions. At least that's what I found out after we agreed on English. Since I didn't know my way around here either, I could at least give her the map and she knew to be on the right way. We said goodbye and everybody went on his way.
As it turned out, I had already walked quite a bit further than I had originally planned, but I had also taken the opportunity to walk around the dam Josefův Důl for the most part. Even though I had definitely seen enough rain during the days, I was happy to see the lake wrapped in light fog.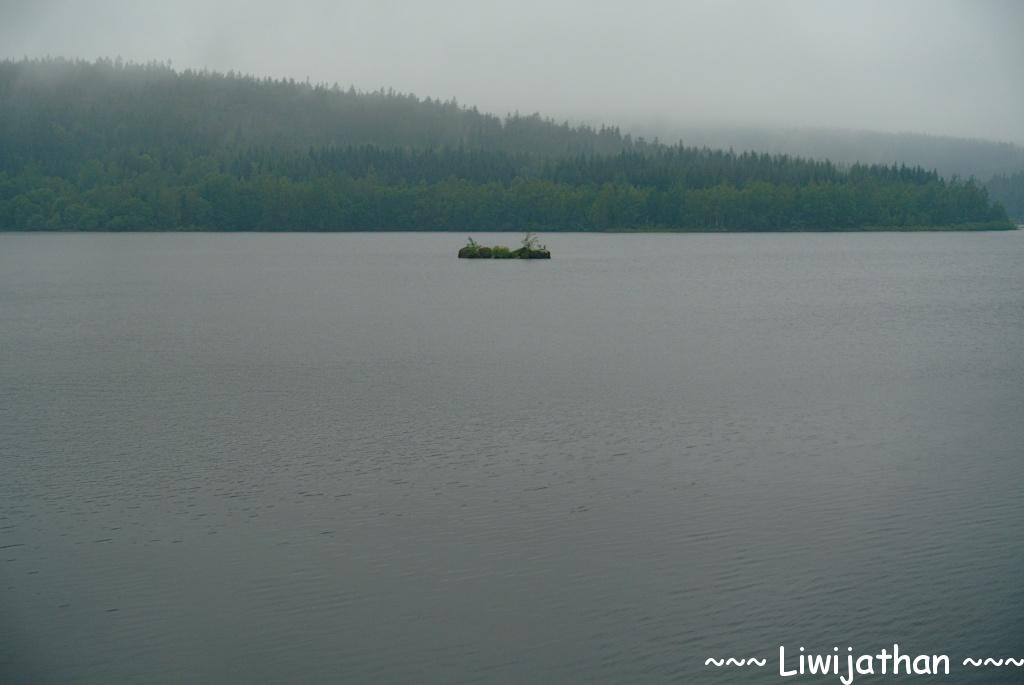 But from then on I decided to take the shortest way back and it went more or less once across the field. (Of course always on existing paths, but if you go hiking more often, you know that there are such and such paths).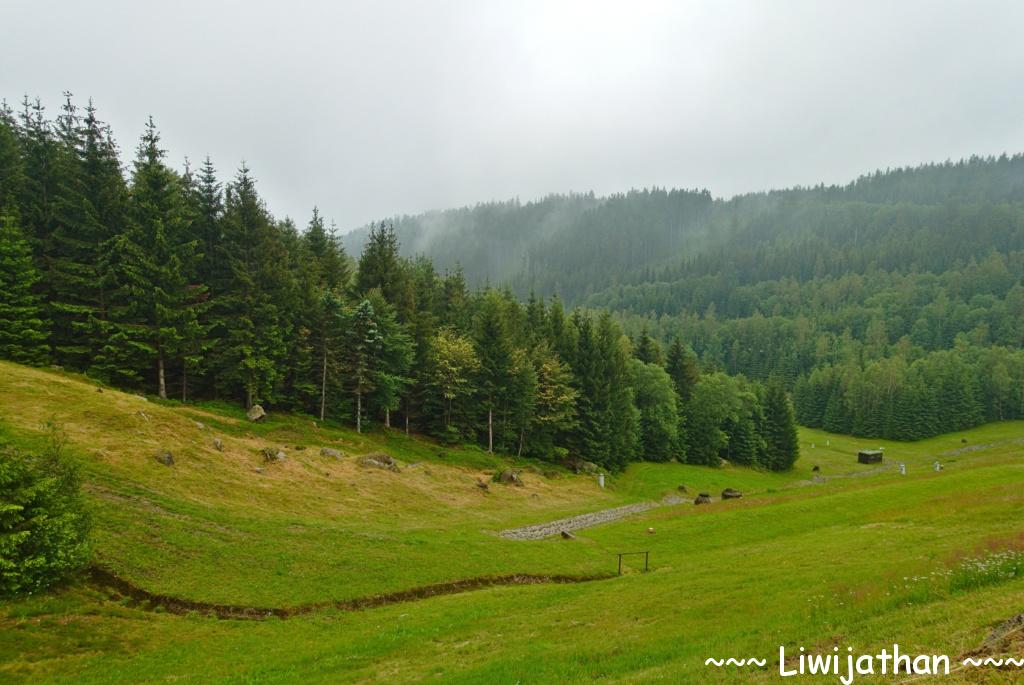 Already yesterday we noticed the countless blueberry bushes, but unfortunately also that they hardly carried any berries or at least no ripe ones yet. If they were blue, unfortunately mostly just bitter. However, there will certainly be reasons why they are already ripe in the Saxon Switzerland but not here yet. But in one place I was lucky and got at least a handful picked.
Continuing on the muddy, wet path, the big advantage of barefoot shoes became clear to me: One wrong step, wet to the skin. With my light hiking boots yesterday, it took hours until everything was finally wet. But the disadvantage is that the wet feet get cold quickly, in the hiking boots they stay warm even when wet. So I changed again for the last kilometers. I take part in a lot, but getting sick is not so great.
I continued to follow the trails until I reached the main road again to follow it back. And so it became again nearly 20 km. A bit much for a walk, but one does not treat oneself to anything else. As there was still some time left until dinner, I decided to have another bath to feel some warmth again.
Total distance:
19679 m
Max elevation:
828 m
Min elevation:
665 m
Total climbing:
629 m
Total time:
04:28:31
July 10th, 2020
Today I was actually meant to go home to commute to Bavaria for the last hike of the weekend, but that changed yesterday and we would only leave on Saturday. So I still had a whole day off. As I had only climbed the two highest mountains on the Bohemian side of the Jizera Mountains, the Smrk and the Jizera, today I crossed the border to Poland and from there I hiked up Wysoka Kopa, the highest mountain in the Jizera Mountains.
So I packed up all my stuff early in the morning before breakfast. Already so early in the morning I realized that my plan to escape from getting older would not work. Family and friends always have to remind us that you already have one more year on your plate, but it's nice to be thought of no matter where you are.
Right after breakfast I took all my things, said goodbye and packed the car to continue. It took me about 40 min to get to Poland, along the road at the edge of the Jizera Mountains, which already offered very nice views.
After I finally found a parking place, which I also got along with, I went to the cottage to pay, which I did after we agreed on sign language. Since I did not have Złoty with me, I was allowed to pay in Euro. As I calculated afterwards, I paid almost double in Euro. But I had holidays, it was a nice day and I don't let something like that ruin my mood.
We started up the bicycle path first of all in the direction of the old quartz mininb. From there I already had a beautiful view down into the valley.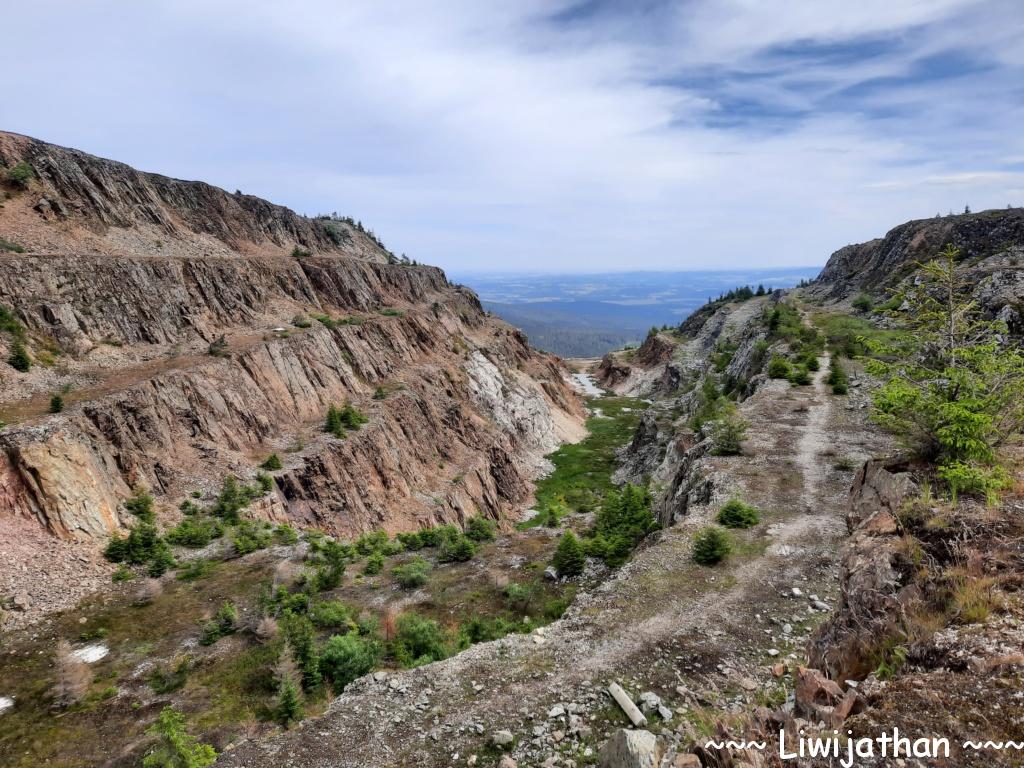 From there it was not too far up to Wysoka Kopa. There is no view from there because of the many trees, but you can enjoy the view from and to the top of the mountain very well. Again there were many blueberry bushes, but they were just as empty here as in the rest of the Jizera Mountains.
Since other hikers gathered at the Wysoka Kopa, I decided to continue my way a little further. At first I was not sure if I would just go up and then back again, but then I wanted to extend the route a bit and followed the red hiking trail.
Since it tended to go only downhill from here, I made very quick progress. As fast as I was going, I decided to extend the route again by quite a bit and followed the red trail over the saddle Mokra Przełęcz until I met the blue trail.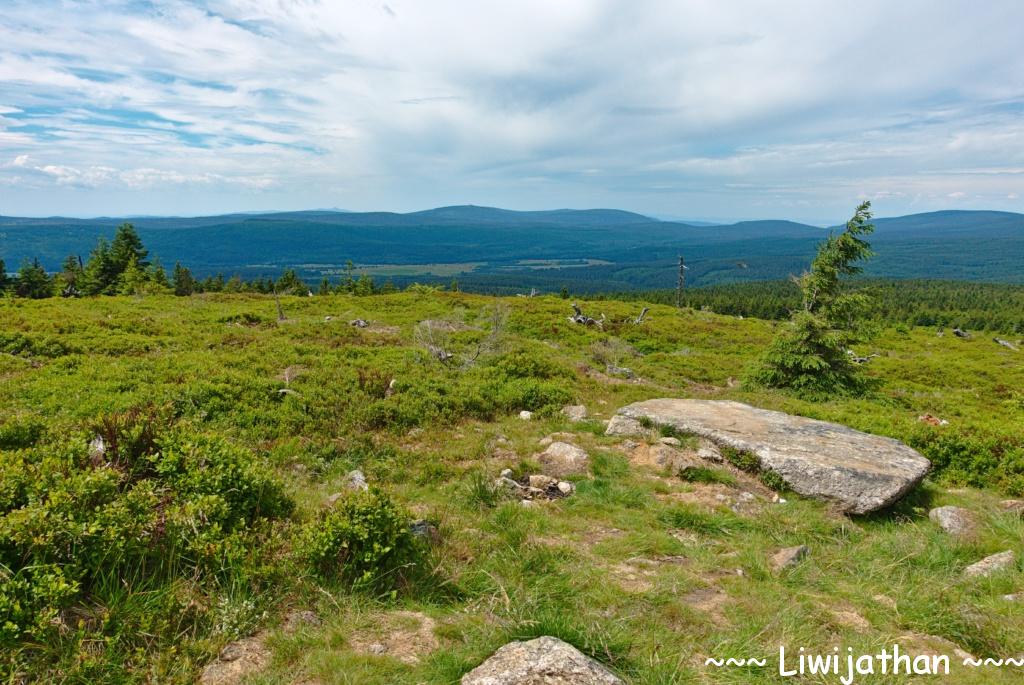 I followed this one for 7.5 km. It seems to be very popular especially with cyclists, because from here on I met more and more people. This could of course be related to the nearby hut, which certainly provides food, but which I avoided because of the large crowd of people. On the other hand I had to drive back home today, so I didn't want to waste time sitting around. The path led at the beginning and at the end again through the forest, but in between it meandered over an open plateau, which allowed the view to the surrounding peaks.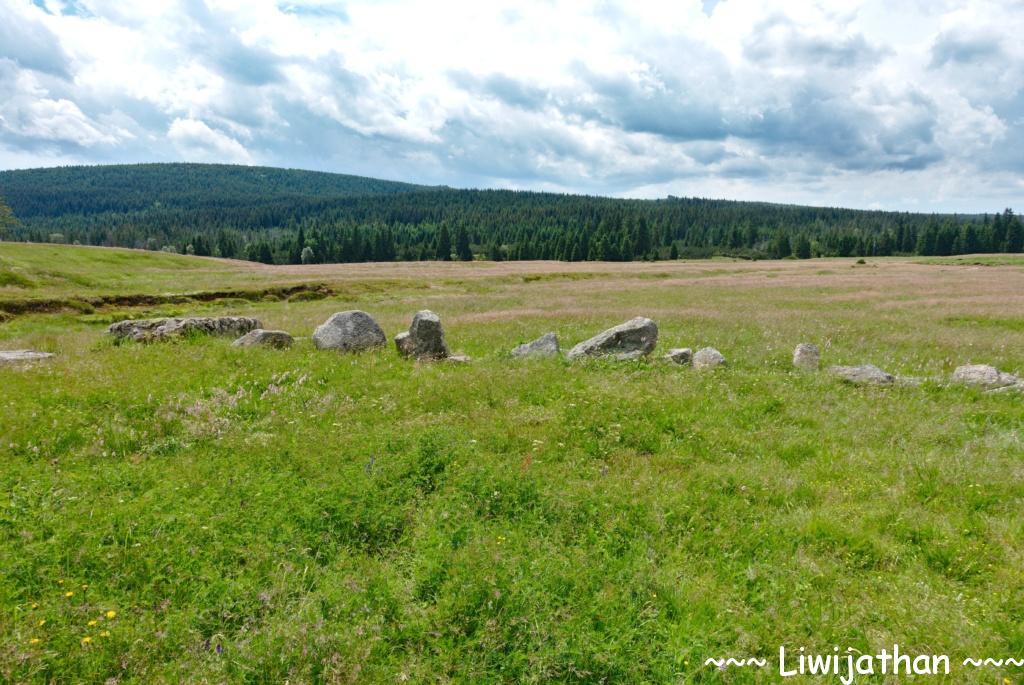 The blue trail led back to the bicycle path, which I had already come up, from where I actually wanted to take the parallel hiking trail, but had missed the turnoff to it. So I decided to take the bike path back again and followed it back to my car.
From there, I'm sad to say, I was on my way home. After a 2.5 h drive, three changes of country and a detour to Dresden I arrived home. As it was getting very late, there was not much time left, just to repack my bag and prepare for the trip on Saturday. At one o'clock at night I turned off the light and went to sleep.
Total distance:
25664 m
Max elevation:
1127 m
Min elevation:
828 m
Total climbing:
777 m
Total time:
05:53:31
July 11th, 2020
Although I could have slept in today, I was already awake again at half past eight. I was so excited I couldn't get back to sleep either. So I got up and prepared myself for today's trip. I couldn't miss breakfast today either, which I got used to very much in the last days.
Punctually at 11 o'clock I was picked up and we made our way to Bavaria near Munich. Actually, we wanted to climb the Alps today, but since rain was announced for today, we postponed the hike to Sunday. But I had one more day in the Jizera Mountains and from experience of the last months it is much better to postpone than to cancel.
Since I did not have to drive myself, which was also very convenient for me, I use the time to write a few lines. Especially with such an adventure weekend like this, it takes some time to write everything down. I didn't finish in the four hours, but the drive home takes the same amount of time again.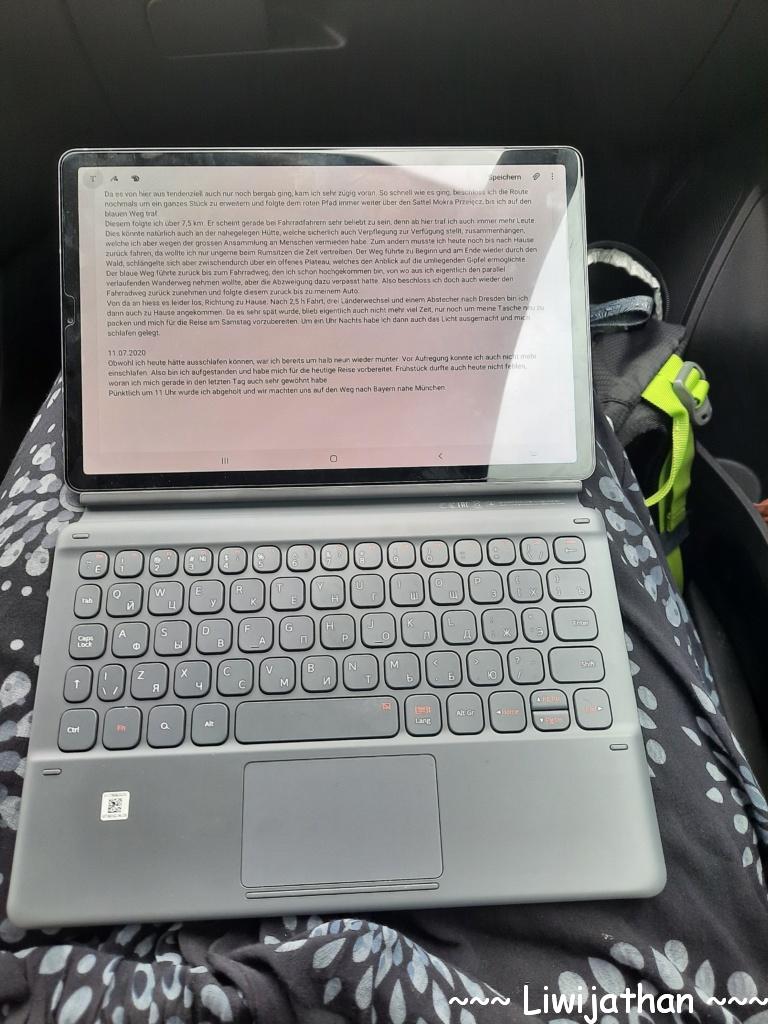 Shortly after three we also arrived at our destination at an friend's house and enjoyed the rest of the day with lots of telling, coffee and eating out. In the evening we looked at some pictures from a Nepal trip and then we went back to bed, because we want to leave at half past six the next day. Or at six. Or at a quarter past six? Early in any case, when everyone is ready.
July 12th, 2020
With cake and coffee in our stomachs we packed all our stuff into the car and left punctually to the south to Garmisch-Partenkirchen. The weather says "only" around 14 °C, but luckily no rain. Too warm is not great either and we get the rest of the heat while hiking.
Shortly before eight o'clock we also put on our shoes and started hiking. I already knew that a lot would await me today and that with about 1300 hm on 6.5 km a climb was waiting for me which I had never done before. Luckily, the first few meters were easy and comfortable, so that we could warm up a bit. And then it started, over wet roots and forest soil vertically up the mountain. If I had known what was coming, I would have enjoyed it much more. A slight pain in the foot was noticeable, but it was nothing worse. After a short time I went on more normal ways again, the pain went away immediately.
Shortly before nine o'clock we arrived at the first pub, which was still closed and we decided to continue. So we continued on the stony path that meandered up there. Again and again we could enjoy the view down to Garmisch-Partenkirchen at treeless corners and to the opposite mountain range.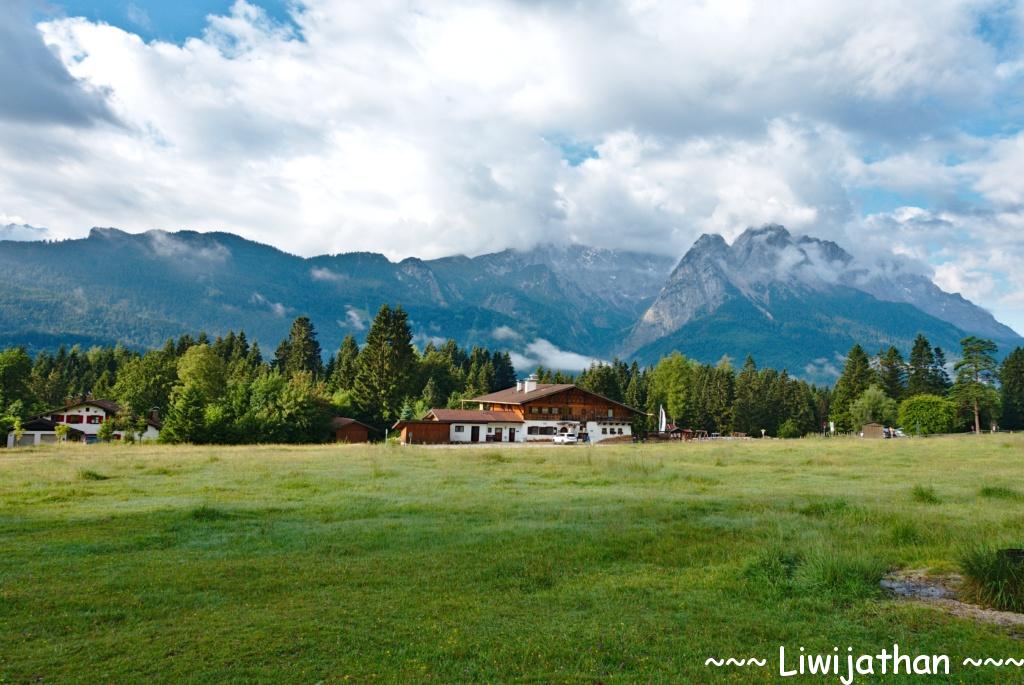 And then it started. Again more or less vertically up the mountain, but this time in stony terrain. Since it had rained the day before, the stones were not only wet, but also the same rivulets formed down the path, until sometimes you were not quite sure whether you were standing on a path or in a stream bed. So it went on for a while, climbing over stones and pulling up big steps. Step by step, not very fast, but consistent. Again and again we also waited for small breaks until everybody was back again, as everybody hiked his own pace. Until we arrived on a small plateau and sat down for a while. Our destination, the Kramerspitz (1985 m. a.s.l.) was already well visible, but it was still more than one kilometer.
Further on it became slowly fresher and fresher and wafts of mist appeared. I was already afraid that the view would hide again, but we were lucky. So we walked the last part, which also showed us a view to the other side of the mountain, over the more pleasant path up to the Kramerspitz. The view not only offered a view of Garmisch-Partenkirchen, but also showed the Zugspitze with the Eibsee below on the other side of the valley.
We stopped at the top of the mountain for a while to enjoy the view and have a snack. As beautiful as it was here, there were unfortunately also many people there. I also enjoy to have my silence at such views, but others just want to enjoy it the same way.
Since the sign for the next restaurant was announced an hour further on, we went there and followed the path over the Predigtstuhl to the west. From here the path went almost only downwards and much faster.
With luck we could get a table and enjoyed the vegetable soup and the Kaiserschmarrn. As the restaurant was still located at 1600 m. a.s.l., one could feel the slightly fresher temperature, specially when half of the clothes were wet from sweating.
From there, we went on over the cow pasture down the mountain. For that we needed so long to get up, I found the fun down the mountain a little short, but it is unfortunately always like that.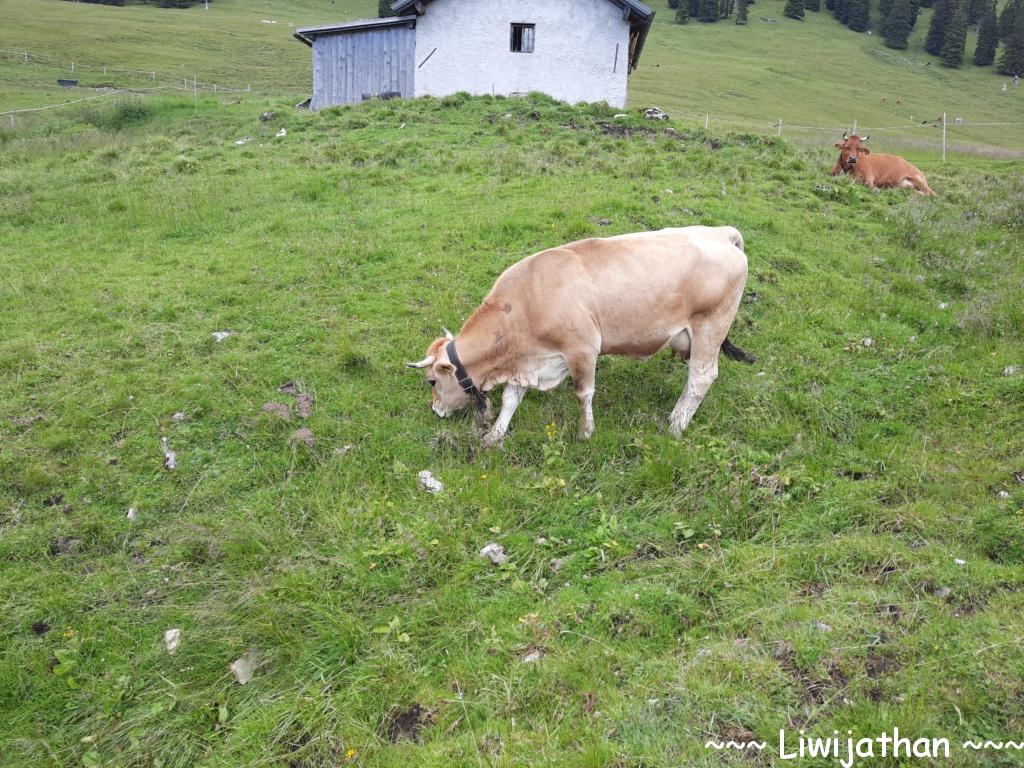 The path remained stony there as well. Due to the wetness it is sometimes a little bit more difficult to keep the balance, because it was easier to slip, but we are all trained for this and could also pass this hurdle without any accidents.
After about 15 km we came back to the car and had survived this tour. It was very exhausting and not always easy to get up the mountain, but it was also nice to see that you just haven't reached your limits yet, that you can do more and that there are still many ways to go.
After our tour we first made our way back to our friend's home, got some pizza on the way and of course ate, before we took a fresh shower and made our way back to our native Saxony.
Total distance:
18633 m
Max elevation:
1982 m
Min elevation:
752 m
Total climbing:
1430 m
Total time:
08:03:53