What I need for hiking
The nice thing about hiking is that you do not need much Equipment for hiking. Some good shoes and a comfortable backpack. Sounds very easy at first. But everything I need for hiking first has to be organized.
Shoes
Just finding an ideal shoe can sometimes be very difficult and I quickly learned:
They do not exist, the perfect shoes for hiking.

https://www.megamarsch.de/ – translated from German
While I mastered my first three tours in sneakers, I quickly realized that this is not possible in the long run. With sneakers on stony ground for many miles not only hurts a lot, but also leaves many unnecessary blisters and damages the foot.
So I borrowed hiking boots for the next hikes. The result was even more blister and a crushed toe that had too little room. So I had to do what I've always hated: go shopping.
So go to the sports shop and get advice first. The seller brought me different models, I just tried them all on and I got stuck with one of them immediately. In that case it was the Meindl Bellavista Lady MFS (No, that should not be an advertisement and no, I do not get anything for that) with Memory Foam System. They felt so soft on the foot and still offers stability and protection. In the beginning, this also ended up in one or the other blister, but now they have broken in and are absolutely perfect for distances up to 25 km. At least perfect for me.
And not so perfect is the shoes on tracks that are longer, such as 50 km. They are just too heavy for that, which is why I turned back to the sports business. This time something lighter with a "sneaker" feeling. This was also found quickly with the Meindl Ontario Lady GTX. Unfortunately, you can not tell in the shop if a shoe is also suitable for longer distances, but for that moment they made a very good impression. In broke them in during my everyday life and worn them during the second 50/12 and survived the hike almost unscathed. It was definitely the right decision.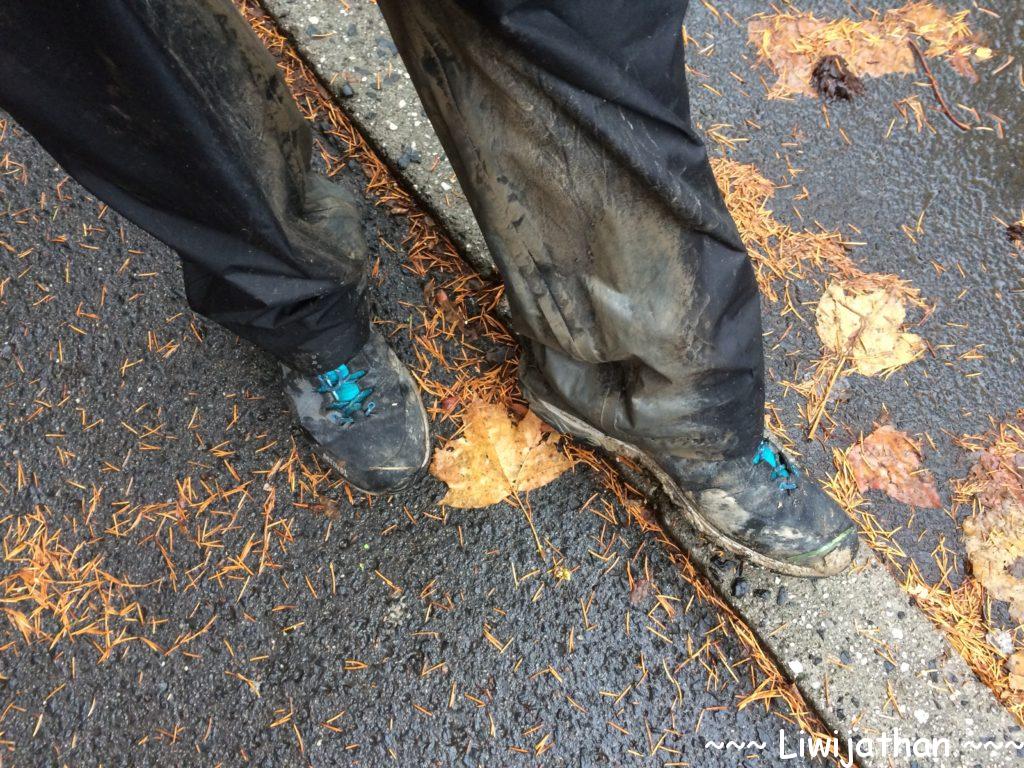 Addendum January 2021
I have moved away from hiking boots, preferring to hike in either my running shoes or barefoot shoes. On the summer trip through Slovakia I covered most of the distance in cheap no name running shoes, which left nearly no blisters. The other part of this trip I did in barefoot shoes. It takes some time getting used to, but is also very nice to feel the ground under your feet, at least when it is nice forest soil.
Preferably I now go off in my Brooks Ghost, comfortable and light, as it should be.
Backpack
At first I had my camera backpack, of course inc. my Canon, with me. But I quickly learned that camera equipment is getting very heavy and you just can not always carry everything with you. In between there was a very small backpack, which had only space for the most necessary, but I mainly ordered because he had a 3l-water bladder coming with it.
Better 3 liters of water on your back than 20 dried out springs.
But if you are on the road for 8 days, carrying clothes and everything, you have to come up with something decent. So I went shopping, again. Just as with the shoes, it is also important for the backpack that it fits and is comfortable. That's why I'd rather try it on in the shop than order online. Vendors of hiking equipment often have weights in the store, so you can try the backpack not just empty. For me, it was the Deuter Trail 30, which I now also use on one-day tours because it just fits.
Hiking Poles
When I started hiking, I always said to myself that I would never use hiking poles. After all, I want to have my hands free to be able to take a picture quickly, or if I have to look at the map again.
This has now changed after a little more than half a year. Mainly because I take a very bad stance going uphill. To avoid this, I was allowed to try hiking poles first and just a few days later I ordered my own. This means that I can no longer bend forward when going uphill and have much less back pain at the end of a tour.
I pack my backpack and also take with me …
The shoes and the backpack are the nuts and bolts at hiking, but there are other things that always accompany me, besides food and drinks, of course.
The most important thing is my mobile phone. Although I get along in cities with a road map, but out in the woods? As it turned out, I have absolutely no sense of directions. Without GPS, I would be completely lost, even with it, I always end up on the wrong track. To get lost is already a firmly established tradition.
And with this, of course, a power bank. Especially if you are 12h out hiking, the battery will eventually die.
Just as important is the camera. While I used to drag my Canon 1000D with all the additions, I have now switched to the Sony CyberShot 100RX M3. Small, compact, lightweight and absolutely sufficient. Sure, you can not compete with a DSLR, but I'm primarily hiking, not taking pictures.
And very important is always music! No matter how tired I am, how hard it is; music always gives me the strength to keep going.
The music in my ears is the blood in my veins!